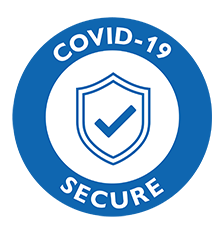 Are you Covid 19 compliant?
Yes we certainly are.  We have conducted a full risk assessment and have put extra measures in place to ensure our staff and clients are protected.  We are proud to declare ourselves Covid Safe.  
What measures have you taken?
We have a full sanitising station upon entry, your temperature is taken and the nhs track and trace QR code is on display.  We only use disposable items in the kitchen area and facilities and the entire studio is fogged between clients.  Social distancing is clearly marked and the number of clients allowed in the studio at any one time is limited to 3 plus the studio manager (unless its a family shoot from the same household).  We ask all photographers to wear a mask at all times and the model to wear a mask if she is on a break.
Are all areas availabile to shoot in?
Yes, all areas are socially distanced at 2 metres, however the dungeon area is 1 metre so a mask must be worn by the photographer.
Are you allowing MUA's/hair stylists/designers etc.?
Yes we are, only 1 per shoot and they must wear the appropriate PPE at all times.
Are you still holding studio days and workshops?
We are still holding studio days as these are on a 1:1 basis, there is a 30 minute gap between photographers and the studio is thoroughly cleaned.  Unfortunately we are unable to run workshops safely so these are currently not running.
Can I still  book  one on one tuition?
Yes of course, this is done within our guidelines as set out above